Published: Nov. 20, 2023 at 4:24 PM CST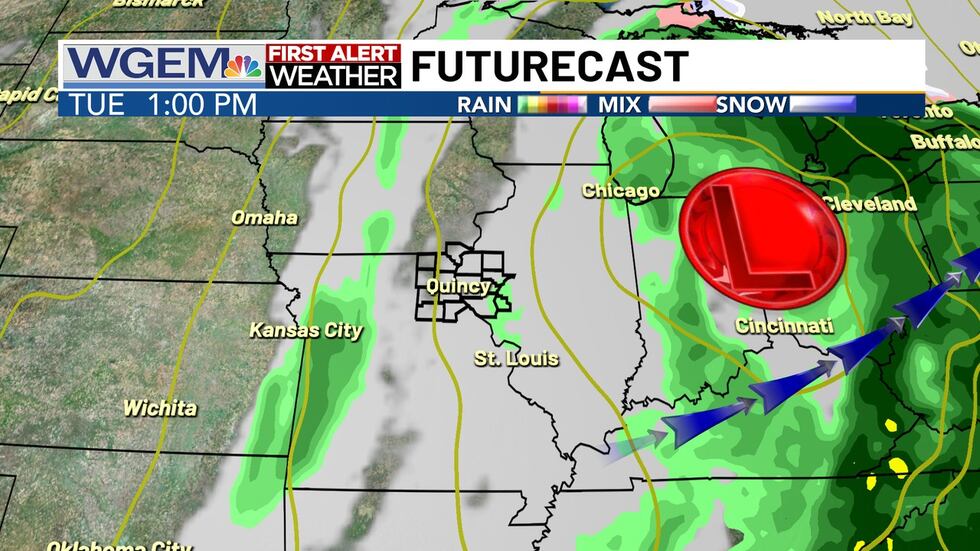 QUINCY (WGEM) - We finally recorded a little bit of rain in gauges across the region. I was hoping for more, but we will have to take what we can get. The rain is not over yet, but it should be exiting the area by Tuesday morning. After the rain exits, we will have a little bit of a breezy day on Tuesday with the wind gusting up to 30 miles per hour out of the northwest. Skies then go from mostly cloudy to a mostly clear sky Tuesday night. With the clearing sky condition, the temperatures will drop down to just below the freezing mark around 30 degrees Wednesday morning.
That clear sky sets up sun-filled days on Wednesday and Thursday. Slight warming on Wednesday and Thursday with high temperatures on Thanksgiving right around 50 degrees. As a matter of perspective, Thanksgiving Day will be the only day where the temperatures will top out above average. Cloudy skies roll back in for Friday. Temperatures drop down to the low 40s for a high temperature with little sunshine. We are then watching a couple of forecast models that depict a little bit of a rain and snow mix sometime late Sunday into Monday.
Copyright 2023 WGEM. All rights reserved.